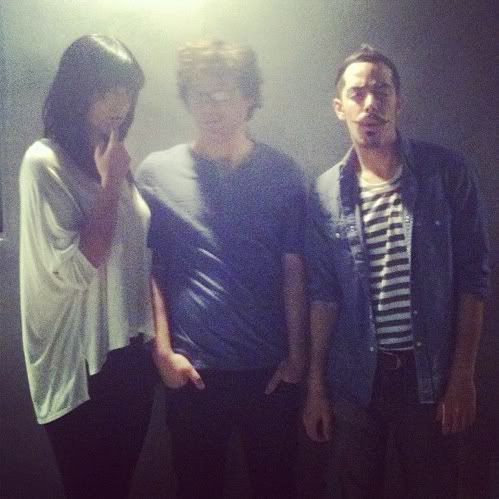 Princess Cake performed for the second time at Prism Box, and we had a really fun set. There was a scene where I was a police sketch artist from Parsons, who needed a victim to describe their attacker. I asked if the suspect was tall, heavy, or scrawny like a hipster.
"Why does scrawny have to be like a hipster?" Nick asked.
"I don't know. That's my only point-of-reference."
This was my honest knee-jerk reasoning, but it got a boisterous laugh I didn't see coming. You know the kind of laugh. The "where did that come from?" laugh. I didn't understand what was funny about the line until later when I was thinking about Greg Tuculescu's note about believability in scenes. My justification wasn't witty or silly; it was just true. And people responded to that.
Last Tuesday, my second team Soulmates practiced with Cissy Fenwick as our substitute coach. She suggested a few exercises I hadn't done since 101. Three line scenes establishing who/what/where. Justification lawyer. These were warm-ups they taught in 101, and being the super seasoned vets we were with 1 year experience, I was initially skeptical.
You guys.
I was STUNNED how helpful those goofy 101 exercises were. Seriously. Just thinking about initiating with a relationship in mind, or using the justification (your character's philosophy) to map how to apply that weirdness elsewhere: it resonated more than it should have. At this point, every new thing I learn about improv becomes another tool in my tool chest, but polishing those basic Phillips screwdrivers revamped the rest of practice. By the end of it, Cissy cajoled a pretty awesome 15 set out of us. We're totally smitten with her.
Truth in Comedy? Justification lawyer? If we had played just ONE round of zip zap zop, I'd swear it was March of 2011 again. But it was refreshing returning to our roots in improv and still learning from them. In fact, not just learning but thriving. The morning after our show, Alex (from Princess Cake) sent this email:
"Just a heads up, the friends I brought were really blown away by last night. We all went to Pink's after the show and the whole time they just wanted me to explain how we did it.They couldn't have had a better time. Great job and see you cake-holes tonight."